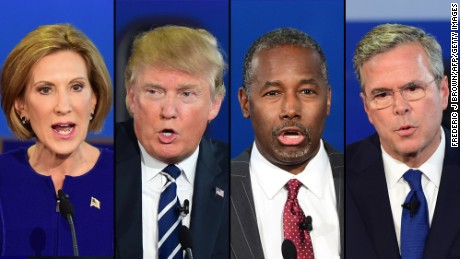 The list of notable figures endorsing presidential candidates in the 2016 election is long and growing. Who's donating cash and, who are they giving it to?
A few months ago, we wrote a post about how Marco Rubio won the endorsement of Melaleuca.com CEO Frank VanderSloot. But VanderSloot isn't the only donor who has chosen to back a candidate. Here's a look at some of the Republican presidential candidates in the race and some of their biggest and most well-known financial supporters.
• Jeb Bush has the backing of two former U.S. presidents in George H. W. Bush (father) and George W. Bush (brother), as well as their respective spouses, Barbara Bush and Laura Bush. He also has endorsements from former vice president Dan Quayle, New York Jets owner Woody Johnson, Hollywood producer Jerry Bruckheimer, and singer-songwriter Toby Keith.
• Ben Carson is endorsed by several actors, including Kirk Cameron, Kelsey Grammer, and Mickey Rourke. He also has the backing of NASCAR star Richard Petty.
• Chris Christie has the support of three state governors: Larry Hogan (Maryland), Paul LePage (Maine), and Charlie Baker (Massachusetts). He also has endorsements from former Anheuser-Busch chairman August Busch III, The Home Depot co-founder Ken Langone, and Hewlett Packard CEO Meg Whitman.
• Ted Cruz has endorsements from Texas governor Rick Perry, who until recently was himself a candidate. Former GE CEO Jack Welch, Focus on the Family founder James Dobson, and conservative icon Glenn Beck have also donated to the Cruz campaign.
• Carly Fiorina is backed by former FEMA head Wallace Stickney, actor Donnie Wahlberg, and Mary Jean Eisenhower (Dwight Eisenhower's granddaughter).
• Marco Rubio is endorsed by Rick Santorum (former candidate) and several U.S. senators including Cory Gardner (Colorado), Jim Risch (Idaho), and Tim Scott (South Carolina). He us also endorsed by billionaire Paul Singer and singer-songwriter Babyface.
• Donald Trump is endorsed by former governors Jesse Ventura and Sarah Palin, actor Gary Busey, and retired boxer Mike Tyson.
Obviously, there are more presidential candidates, and a lot more people endorsing them. This is just a sampling.